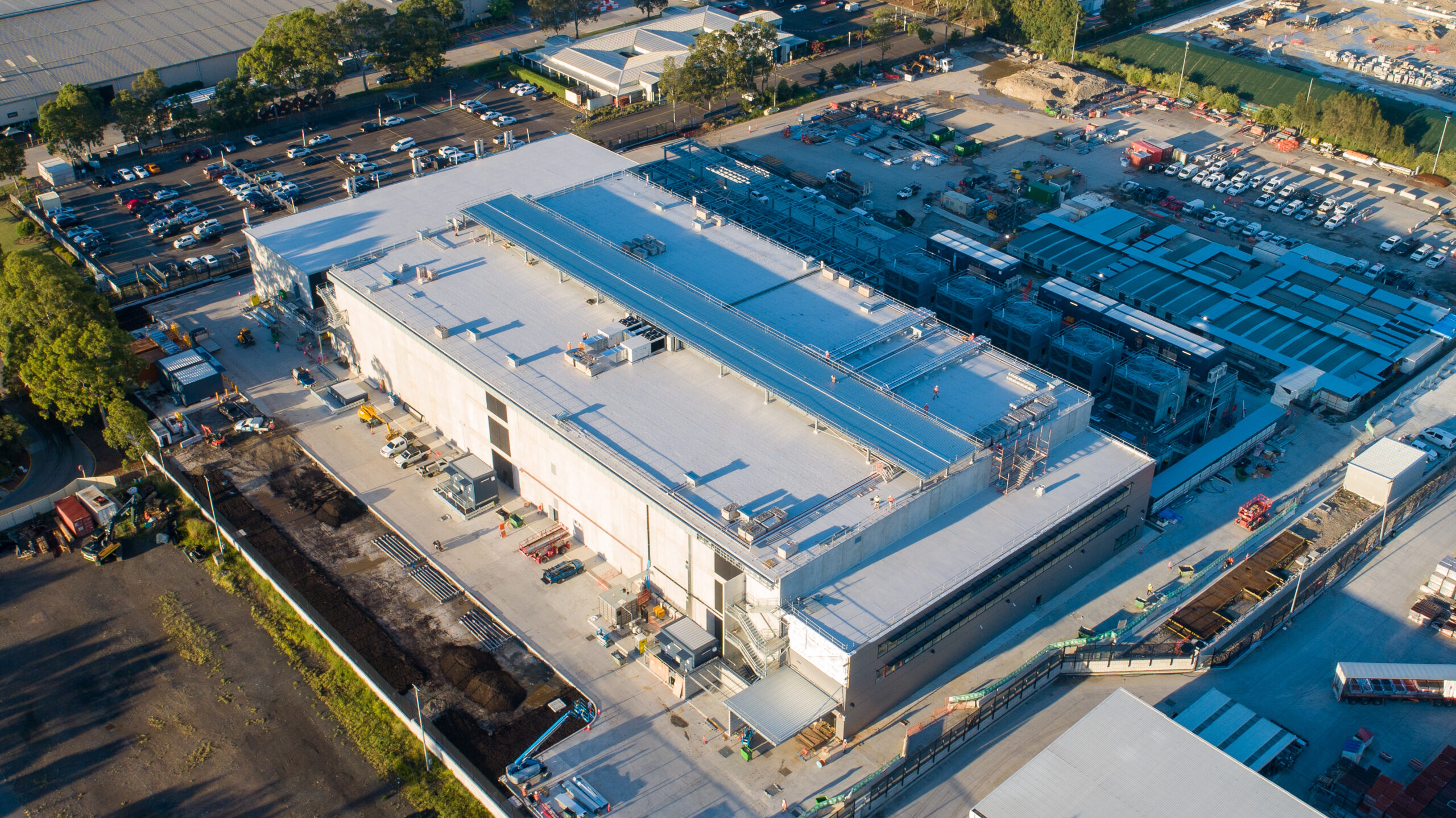 Equinix SY9x Data Centre
Equinix are commissioning two new data centres in Western Sydney after signing a $775 million JV with PGIM Real Estate. The partnership between the data centre builder and real estate investment firm will develop two xScale facilities (SY9x and SY10x). Between them the two centres are expected to provide more than 55 MW of power capacity to service a targeted group of hyperscale companies, including cloud providers such as Amazon Web Services and Microsoft Azure. Construction for SY9x was due to commence late 2020, with completion slated for late 2022. Circumstances meant inevitable slippage for commencement and made for tight deadlines overall.
MBC Group were engaged as Principal Certifying Authority for Equinix's development. The three-storey facility comprises the latest high-tech industrial storage infrastructure in the form of colocation halls and ICT equipment with ancillary office space for customers, clients and employees, and multi-purpose high security meeting spaces.
Due to the presence of a large quantity of lithium-ion batteries, fire separation and additional consultation with FRNSW was necessary regarding additional requirements such as signage detailing where the batteries are located. The building's complex fire engineering needed fire services upgrades from 'deemed to satisfy' requirements to combat the excessive fire load and improve early fire/smoke detection to protect the high capacity of data storage located within the building. Some of these upgrades included:
- Aspirating Detection (Very Early Smoke Detection Apparatus or VESDA)
- Point-type detectors
- Thermal & flame detection
- Double-knock designed sprinkler system
- Vaporising liquid or CO2 fire extinguishers
As a result of tight project deadlines, the client required the build to start prior to 6th March 2022. Before this date, a fire engineered performance solution was in place for the rationalisation of Fire Resistance Levels (FRL) that are determined in the National Construction Code. This was restricting us from issuing a Construction Certificate (CC) tailored to the approval for structure only, as the Fire Engineering Report was still awaiting approval from Brigade. To overcome this, and in liaison with the fire engineer, we proposed to remove the rationalisation of the FRL performance solution, allowing the issue of a CC for structure only, which ensured the project remained on schedule when it was issued on the 5th of March.
Working with the builder AW Edwards made our role much simpler for this project. They were very responsive and knowledgeable when it came to formulating solutions around overhanging issues. With this relationship, we were able to deliver the project on-time to the satisfaction of the client.
Like reading about our projects?
Contact us to discuss your proposed development and find out how we can deliver outstanding results for your development.