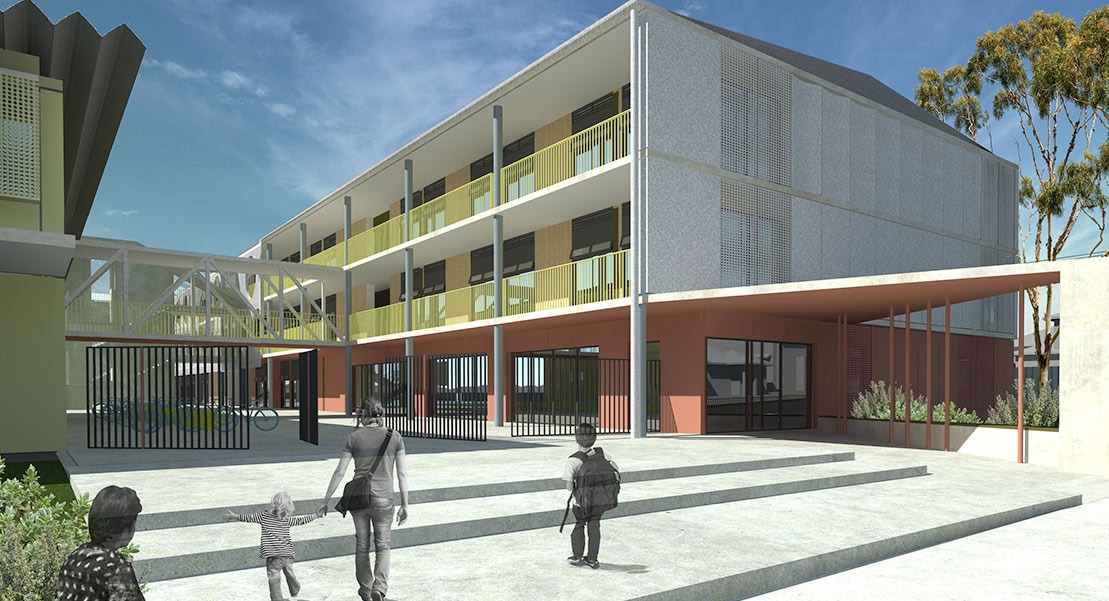 Gregory Hills Public School
MBC Group have been engaged for the development of the Gregory Hills Public School providing Principal Certifier and BCA/DDA consultancy services. This interesting project is a first for our business as it will be a kit of parts design utilising a Modern Methods of Construction approach. There is an increasing trend for the prefabricated method to be utilised as it reduces delays in construction and is quicker and faster to deploy. It's an obvious choice for school projects and gets children and teachers into the schools sooner than traditional build methods. The school will be in operation utilising temporary demountables until the construction assembly phase begins, which added another layer of complexity to the project.
For building compliance, the potential difficulties in these prefab designs are the use of cross laminated timber (CLT) in the modular systems which may not comply with the non-combustibility requirements of C1.9 of the NCC, and results in the need for fire engineered performance solutions. Other items that need to be considered are ensuring certain structural elements such as beams are adequately fire rated if they are all being assembled off site and put together.
The building works will incorporate three predominant buildings being connected via a link bridge and roof. The new school will provide teaching spaces for 1,012 students from Kindergarten to Year 6. Infrastructure associated with the school will include:
- 44 learning spaces
- 4 Support learning spaces
- Administration and staff facilities
- Canteen, multi-purpose hall and library
- Covered Outdoor Learning Area (COLA) and landscaped outdoor learning areas
- Outdoor play areas including a sports court and a playing field, with the potential for shared community use
- Car parking and amenities
Like reading about our projects?
Contact us to discuss your proposed development and find out how we can deliver outstanding results for your development.